Landscape Design Carson City, NV
At Enterprise Landscaping, we create unique and stunning landscapes that exhibit all the earmarks of professional craftsmanship. We have worked on projects that pushed our creativity and skills to the limits, and we have emerged as better landscapers in the end. From Old World-inspired landscapes to landscapes with contemporary appeal, we can guarantee excellent landscape design plans.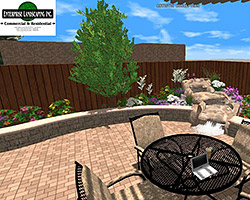 Accordingly, we have designed so many landscapes for clients in Carson City, Reno, and Lake Tahoe. Our creations are praised for their wise use of design techniques and creative application of various design principles. So if you want a truly standout landscape design plan, we are the people who can help you.


Landscape Design Professionals
We are fortunate to have experienced landscape design professionals as part of our team. Our designers have completed simple design jobs in residential properties to complex works in large properties with expansive lawns. They have designed commercial, public, and residential landscapes across Carson City and neighboring cities in the state of Nevada. Our design team has crews who have trained with some of the best designers in the industry. They have also worked on some pretty challenging design projects, making them fit for any design job regardless of difficulty.


Modern Design Tools
We extensively use modern design tools for our projects because of their awesome features and ease of use. We particularly specialize in 3D designs, which feature highly detailed and vivid rendering of clients' landscape preferences. At Enterprise Landscaping, we are huge believers of cutting-edge design tools, particularly VizTerra design software. This landscape design tool is fast, powerful, and allows for the creation of real-time 3D designs that clients absolutely love. It offers virtual interactive tours of the landscape being designed and provides for customization better than other 3D design software. With VizTerra, clients can easily visualize how their landscapes will look when the installation phase is finished, making it possible for quick design changes even late in the design phase.


Versatile, Creative Landscape Designers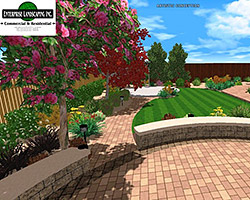 We can work on residential, commercial, subdivisions, and property development projects: small, medium, or large scale. We are very versatile in landscape design, having worked on numerous projects in the past. Our previous and present clients love our adeptness in handling design jobs and how we manage to translate their desires and ideas into excellent landscape design plans. Our designers know the best design for every type of property, and they can use their creativity to create designs that are out of the ordinary.


Sustainable Landscape Design
We are particularly proud of our sustainable landscape designs that employ techniques such as xeriscaping or zeroscaping. With this method, we are able to help clients save money since there is a reduced requirement for irrigation supply. Our crews pick plants and other landscape features that are native to the region, so frequent watering is not a must. We have used xeriscaping in many landscape design projects for clients in Carson City, and the results have been very satisfactory based on client feedback.

Call our customer hotline at (775) 691-2941 for all your landscape design needs.