Welcome to Our Site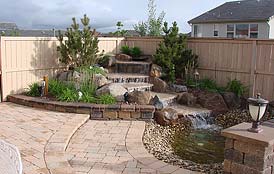 Enterprise Landscaping is the Reno, Carson City, Lake Tahoe and surrounding Northern Nevada area's premier full-service landscaping and design firm dedicated to superior craftsmanship and a commitment to quality in all aspects of our landscape design. We offer our clients a comprehensive approach, with a complete line of landscaping services, to achieve the landscaping and outdoor living areas of their dreams. Our services include fencing, irrigation, patios, pavers, retaining walls, maintenance, water features and special interest landscaping.
Our forward-thinking approach utilizes the latest technologies including 3D renderings and virtual tours of projects before they are underway helping you transform your ideas into an outdoor masterpiece. At Enterprise Landscape, our commitment to our client, quality, innovative ideas, superior craftsmanship and extensive list of services make us the right choice for your next project. Contact us today to make your dreams become a reality!
Enterprise Landscaping employs the best people in the industry. We have landscape designers, plant experts, seasoned landscapers, irrigation technicians, ICPI-certified paver installers, well-trained lighting installers, outdoor living specialists, and other professionals with extensive experience in landscape development and maintenance. Our people are dedicated professionals so they never stop honing their skills to improve work efficiency. They use their experience, in-depth knowledge of their craft, and creativity when working on client's dream outdoor setup. As a result, you will get a well-thought-out plan and carefully installed landscape features in the property. These capabilities are just some of the reasons why most property owners in Northern Nevada choose our services. We will achieve your desired outdoor setting without compromising workmanship, functionality or beauty. Our creations are some of the most gorgeous landscapes in the State. And the best thing about hiring us is our client-friendly rates. With us, you can have a stunning landscape with mesmerizing waterscapes, beautiful lighting schemes, and functional outdoor living spaces at reasonable rates. Call us now to get a free project quote!
More